Here's new reader reports sent in response to this site:
For my wife's birthday 10-12 years ago I ordered a special edition of "The Last Unicorn" which had new art, new stories, and IIRC a copy of the movie. It was due to come out well before her birthday in June so I didn't think about it until it was July, then August, etc.

I tried to get a response for a long time, almost harassing the "customer service" but to no avail. Promises of delivery never were kept and at the end I gave up. I wrote it off as a "buyer beware" story and promised myself that I would avoid this guy in future. The fact he is still scamming people after all these years is not too surprising. We still get emails saying that the items are "coming soon".
And another:
I was at DragonCon 2009 in Atlanta, GA when I first met Connor Cochran and Peter Beagle. I purchased an autographed DVD of The Lord of the Rings and an autographed book for my wife. I also purchased an Extra Deluxe Collectors Edition Last Unicorn hardcover and that's when my troubles began.

I understood that handwritten pages had to be added by Mr. Beagle as well as a custom illustration by Cochran so it would be shipped later. Boy, did I underestimate what "later" meant. After about six months my wife asked me if I had received my book. I had not, so I called Conlan Press. Thus began a five year slog via email, phone calls, and Twitter messages.

I heard every excuse under the sun. Someone had just been hired and was working to get the books "out the door", someone had just quit and left everything "in a mess", someone's relative had died, they had been on tour, they were fighting a "legal battle". In 2012 I was assured the handwritten pages were done and all that was left was a sketch and the book would be mine by Christmas. I should have asked, "Christmas in what year?". All the while I was also receiving Mr. Beagle's email newsletter detailing all the wonderful things he had been or would be up to.

Finally (I know) this year, 2014, I had enough of waiting. I went full-court press on Conlan Press via email and Twitter; I couldn't stomach the thought of having to listen to Cochran's voice again so I skipped calling. I reached out to everyone associated with Peter Beagle and Cochran including the Twitter account claiming to be the "official" Twitter account of Peter S. Beagle; surprise, it isn't. It was just another layer between the fans and Mr. Beagle set up by Cochran.

Then, after posting and re-posting via Twitter, Cochran actually contacted me to accuse me of harassment. I explained all I wanted was the book I paid for. Well, apparently that did not sit well with Cochran and he outright told me he would not be sending me the book but would refund my money. Needless to say I was skeptical. I contacted the BBB in California where Conlan Press is located and filed a complaint. Cochran continued to libel and harass me via Twitter but shockingly I did receive a check for $85 about a week after I filed my complaint. I am happy to have the refund but still sickened to know that others are going through the same thing.

I will always advise anyone to never purchase anything from Conlan Press.
They echo many reports of abusive customer service by Connor Cochran:
In May (several weeks since I ordered the book) I e-mailed Conlan Press and asked them about my order. A few weeks later (in June) I decided to call the company in CA since I had received no reply from them. I spoke to a guy who from the start gave me nothing but excuses. I told him that the book was a birthday present and that I really needed it. He started telling me that his company was small and that a female employee who handled everything had left suddenly and they were trying to pick up the pieces. He said that since it was for a birthday he would make sure the book was signed and sent that Monday (it was a Friday that I called.) I told him that I was not "Oprah" and did not need all his excuses – just the book. He said he didn't need the "abuse" I was giving him and so I told him I expected the book to be signed and mailed on Monday as he said and when he tried to give me more excuses I hung up on him. A few minutes later he called back and asked if I could be "civil" with him so we could resolve the problem. I was biting my tongue so I wouldn't tell this CA laid-back idiot what I really thought of him. The call ended and I was expecting the book in a few days.

The book never arrived. I was waiting another week to call back and see where it was (since it could have been mailed and just in transit.) I then received a generic e-mail from the company explaining that my book was being delayed because they were a small company and a female employee was getting divorced and had left the company to work on her personal issues. It did not mention the call I had made to them about getting the book that Monday and so I called them again.

I explained everything to the guy I spoke to (including about it being a birthday present and I had been told before that it would be delivered by a certain date and that date had come and passed.) He started out with the same excuse as I have received from everyone at this company – about the female employee. I told him that I had heard that excuse for months, but that this time the mistake was due to a male employee (the one I spoke to the first time I called.) He kept repeating that they were a small company and that it was misplaced, etc. I told him that if they were a small company then it should be easy to know who had made the mistake and to correct it. He did a stupid laugh at that and said that perhaps I had made the mistake. After hearing him blame me I went off on him and told him what I thought of him and his company and told him that I had better receive the book within the next few days or I would file official complaints with anyone and everyone in CA (including the Feds) and then I hung up.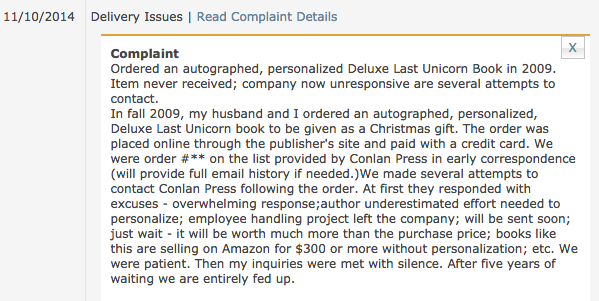 Watch for more info soon.