In the history of scamming by owner Connor Cochran, Better Business Bureau complaints show customers waiting TEN YEARS for undelivered goods.  (2014: "This project is now nine years overdue".)  Corroborating complaints across the internet make an inescapable conclusion: the lowest estimate starts around $100,000 in scam sales.
That's tens of thousands paid for audiobooks, and hundreds of documented "Extra Deluxe" Last Unicorn books sold and never delivered to victims.  That's only TWO among other titles, leaving much more unknown.  How much higher do victim losses go?  Take a guess when "The Last Unicorn did 2.5 million video sales" in 10 years and the "novel has sold 6.5 million copies."
One scam victim has been documenting her ordeal with being deceived, concluding: "No one will be getting their refunds." She is still getting the runaround after seven months (and counting). After persistently pleading for help, she's left empty handed with nothing but sadness at being cheated.  Her ordeal began in April 2015: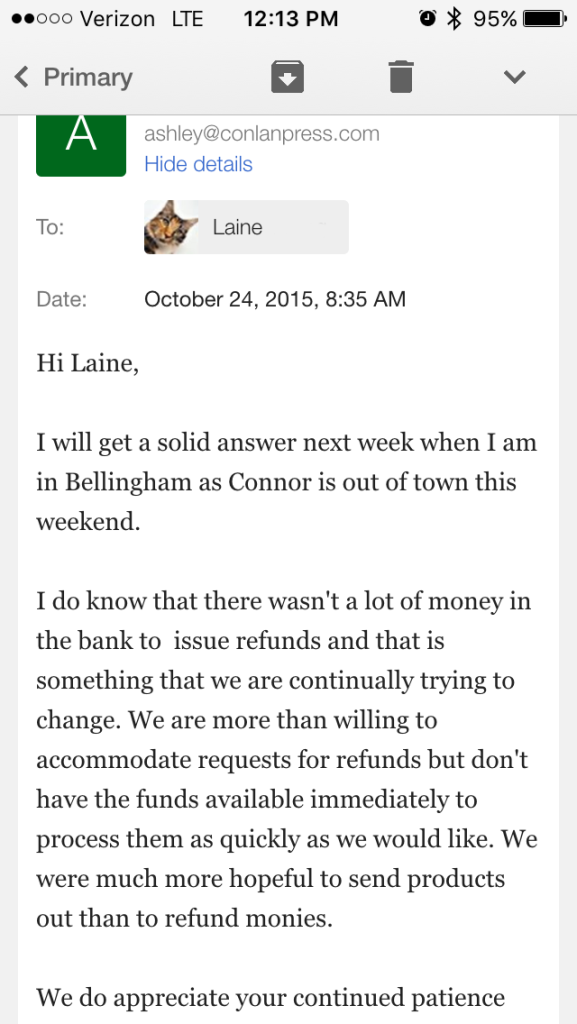 NO MONEY IN THE BANK?!!
A legitimate company would have no problem paying back a small sale of mere art prints to one person.  But not Conlan Press and it's owner. No Money In The Bank is the official statement and Connor Cochran's excuse (swear on his mother!)
Meanwhile, he boasts of spending $5 million to plump up his Golden Goose movie, soliciting $15 million from investors, licensing deals, "over 60,000" ticket sales for a movie tour, and "over 300,000" merch sales on his Last Unicorn Tour website.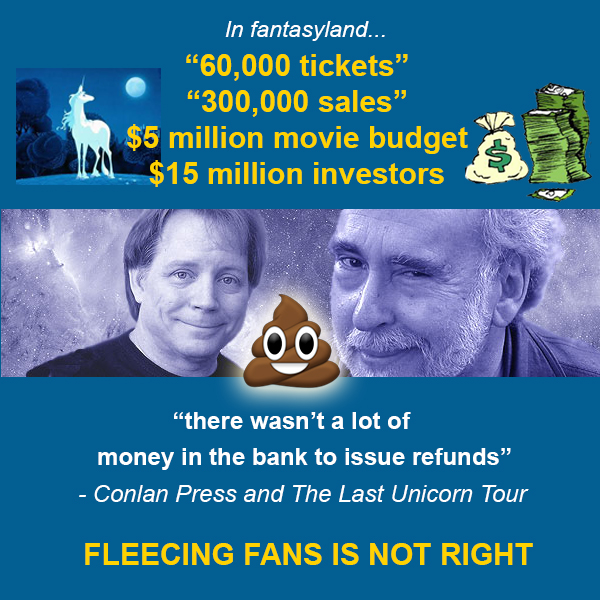 Your eyes are not deceiving you: Connor Cochran is simultaneously bragging of hundreds of thousands of sales and million dollar budgets for himself… and not a dime to repair hurt to a pleading, empty-handed buyer.
"But when the taxman comes to the door, Lord, the house looks like a rummage sale…"
It's a policy of denial.  Let's summarize this victim's 7 month experience of the Conlan Press Attrition Process to block victims from refunds:
April: Victim pays for art prints. Conlan Press makes vague promises to deceive her about delivery in "approximately 4-6 weeks." She orders a DVD too.
Delivery dates come and go with empty hands, and no communication.
Victim is forced to chase Cochran to beg for help, but gets ignored.
Victim persists.  Cochran stonewalls her pleas for written answers, stringing her along with vague, unwritten phone calls and no solution.
Victim persists. Further pleas are ignored.  She is forced to chase answers from a Conlan Press front person. (History shows that blaming the employee comes later.)
Finally, she's told that since she patiently waited through vague delivery dates, it's too late to get a direct credit (oh, really?)  But… the check's in the mail.
Surprise, the check isn't in the mail.
Forced to plead again, she gets a vague promise of a check in 4-6 weeks (again).
November: More pleas. Still no check.  History shows that Connor Cochran is more than willing to string victims along indefinitely.
The Conlan Press Attrition Process: watch with disgust as another victim's refund claim persists through three house moves and EIGHT YEARS OF LYING by Connor Cochran… all that effort to deny their refund, instead of doing one drawing to get their book delivered.
This is clear – he doesn't care who gets hurt, to reap profits for himself at any cost.
After a decade of stringing customers along, here's more of Cochran's excuses in a list longer than you can count:
Relocating to Washington in 2015 while fleeing scrutiny in California.
Beagle's decline in health, which conveniently refreshes an oldie –
Cochran is still hiding behind Beagle's mother's death in 2006. The moldy "mom" excuse extended to 2014 and beyond. It was on the conlanpress.com "updates" page, forced down in 2015 by rising public outrage.
During all the excuses for all these years, Cochran was spending at least tens if not hundreds-of-thousands of dollars on lawyers (who cost hundreds an hour). He was diverting payments for goods (on top of fan donations) into legal manoeuvres to capture The Last Unicorn movie for his properties.
It was far from the only extravagant legal spending.  In 2012 he sent more attacks at his victim, Sydney Gurewitz Clemens, an elderly children's teacher.  She paid him $25,000 to publish her book, but got nothing.  After breaching the contract, Cochran refused to return what he took, forced her to sue for help (PDF), and piled on abuse and heartache by dragging her through vicious court fighting.  At your expense.
Now he claims there's no money.  Demand documented accounting for how your payments were really spent.  You'll get non-answers like the above customers did.
When you wonder where the money went, remember: Peter Beagle doesn't own Conlan Press.  All of the cheating feeds back to Connor Cochran.
Beyond consequences for scamming, Cochran has one thing to capitalize on by stringing everyone along.  When Beagle's time runs out… it's all in the bag.  And with such shamelessly venal behavior, death just makes a new excuse for non-delivery.
Complain to the California Attorney General and the Washington Attorney General. Report suspect financial activity to the IRS.  Report Federal Mail Fraud to the US Post. Document abuse at Ripoff Report, and send your story to fansagainstfraud@gmail.com.