On Peter's birthday (April 20), The Last Unicorn facebook page was silent.  So were other social media false-fronts run by Connor Cochran and Conlan Press. Now their main concern is extracting money from fans to pay for legal battle against Peter.
Not all was silent with Peter.  For his birthday, his fans got the present.
Now fans can follow him at The REAL Peter S. Beagle facebook page, where his exploiters have no access.
Peter got a birthday post from Tachyon, an honest publisher who's actively supporting Peter's career. He did a reading in San Francisco and got dinner with fans (hi Ted!) And Balticon 50 announced Peter as their guest of honor.
That's hardly the life of a man too feeble to manage without forcible control.
The world is a better place because Connor Cochran won't be allowed to use these activities for his predation. It's driving him to spread desperate, self-serving phone messages to plead that Peter NEEDS conservatorship… because otherwise Cochran's movie deals will suffer. He's all about the money.
Mystery of The Magical Disappearing Comments.
Comment on the Tucson screening announcement and watch it disappear. Alakazam!  On 4/27, there's 54 comments shown but 76 listed (replies don't count). That's a lot of hidden comments. (You may need to log out to see filtering of ones you leave.)  
Now let's have a deeper look at the turmoil behind Cochran's social media false-fronts, and the deception he's doing to roll back awareness.
While Cochran exploits fans to keep buying what he sells, he doesn't want you to know about the fight to #TakeBackTheUnicorn. He sees a storm of protest brewing and he's battening down the hatches.
Massive deletion is happening to fan discussion about the fraud and lawsuits. We have screenshots of deleted posts with hundreds of comments. Let's dig up what Cochran and his cronies want to bury.
GONE: Fan posting ability to The Last Unicorn page on Facebook!
190,000 page followers used to post daily to the Last Unicorn page.  No more… and their previous posts are all gone.  Meanwhile, on the Peter Beagle Facebook page run by Cochran, thousands of followers are under tight control of info.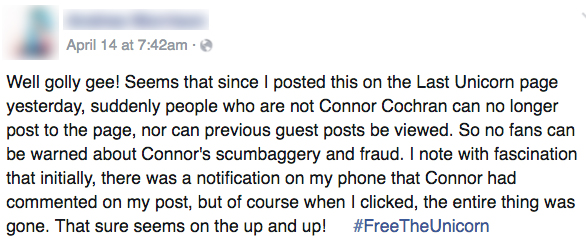 ENTIRE REVIEW SECTION DELETED from the Conlan Press Facebook page!
In late March 2016, Cochran deleted the "reviews" section from the Conlan Press Facebook page after a streak of 1-star reviews from customers who never got what they paid for.
Here's a screenshot of Google's cache made in January before further 1-stars (with lonely 5-stars from his own employees).  On April 13 we linked the cache and the next week it's gone too.
EVASIVE MANEUVERS! Spambots suppress Twitter search results: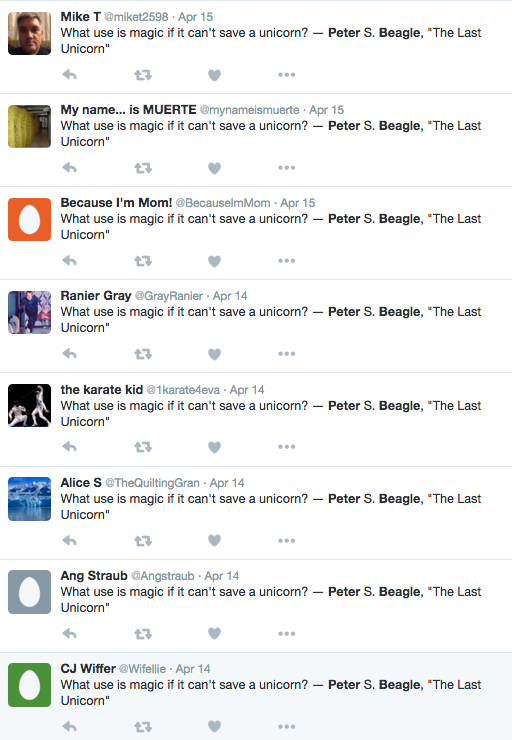 This is new.  The tweets are consecutive, and they aren't single instances.  Numerous accounts are repeating the SAME tweet DAILY.
They're spambot accounts all linked to each other, populated entirely with generic quotes and sayings.  It's a commercial service.
Some services build bot accounts to sell you a pile of new "friends".  Others like Reputation.com manage PR, like suppressing search results to help cowardly con artists hide what they do. It wouldn't be cheap to use Conlan Press funds this way.
ATTACK AGAINST PETER by the Last Unicorn Facebook page!
190,000 followers were treated to Cochran's sympathy-begging statement about manipulating Peter's children against him.  It was his official side linked right to Conlan Press.  (That post is now deleted too.)
At the same time, the page declared itself a "neutral zone" (that would not post Peter's side).
When repeatedly asked, the page manager conveniently forgot who owns the page (refusing to name Cochran) while claiming to be run by "a fan."  However, Reece Mack posted the professional position to his LinkedIn resume in September 2015.  (That was when Peter hired a fiduciary; so Cochran got a crisis manager.) The sudden, transparently phony coyness and evasion about the PR coincided with Peter's injunction against Cochran.

Deleted comments and evasion: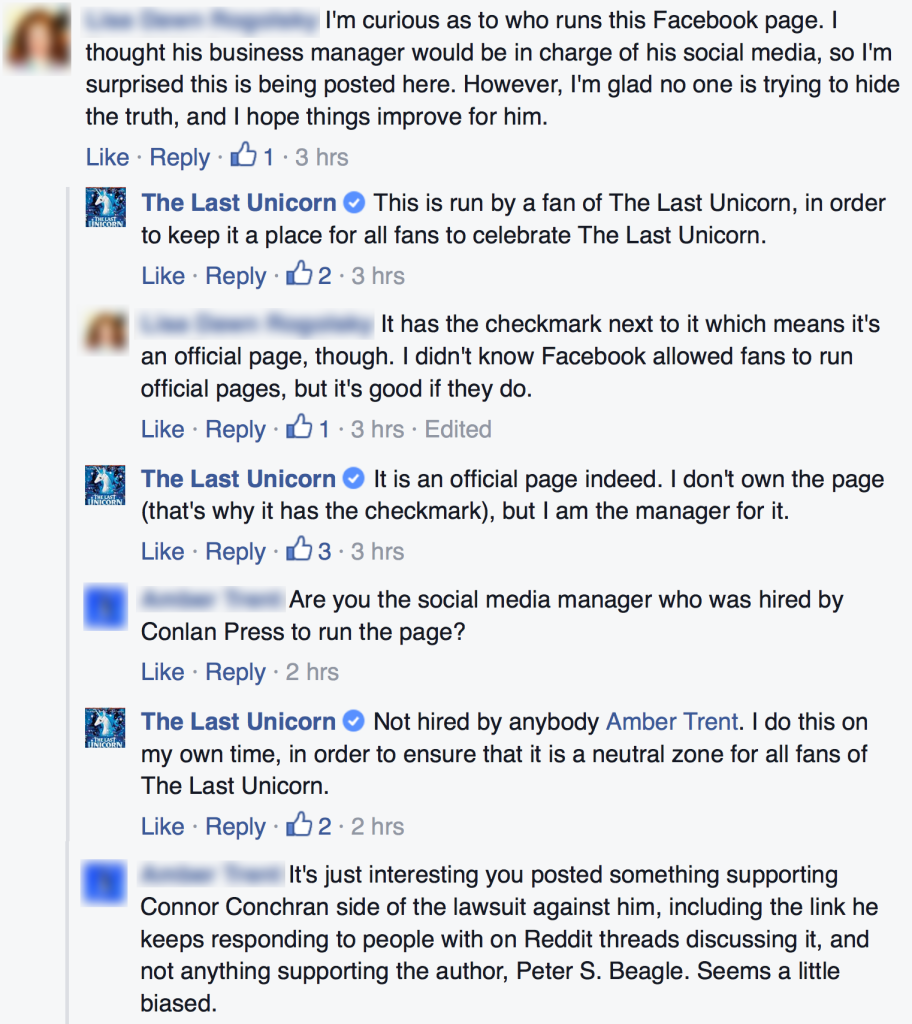 Sudden serious memory problems… maybe a conservator is needed!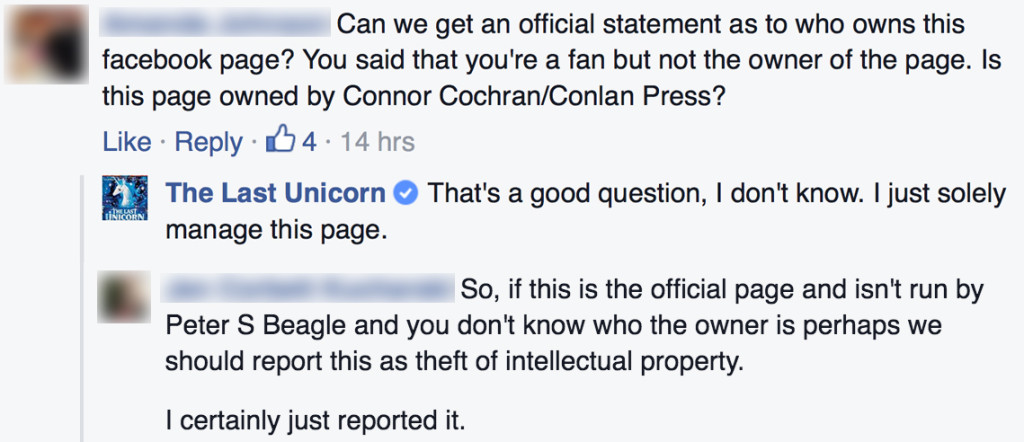 The selling must continue… but if you don't get what you ordered, they have nothing to do with it.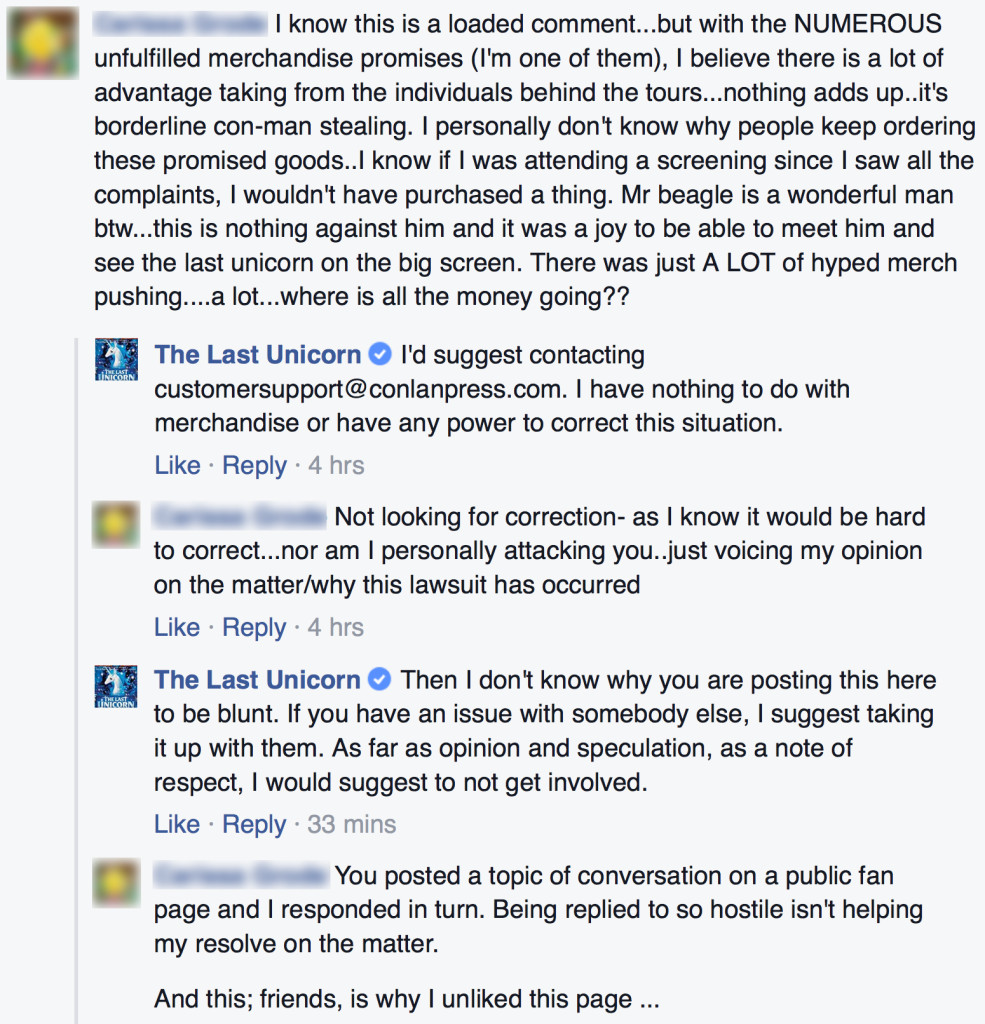 Cheated customers keep getting the runaround…
@ConlanPress hey, i sent you several mails about my order but got no reply

— Dofain (@dofain) April 13, 2016
@ConlanPress Comment on the lawsuit: I (+ others) never received TLU DVDs from you. You're def a scam artist that I wasted $10+S&H on.

— Kaye Bohémier (@kayebohemier) April 4, 2016
A message to the crisis manager:
When the Last Unicorn Facebook page says it's run by "just a fan", and refuses to name the owner, it implies being unaffiliated.
Do you get that little nagging feeling that you're expected to say something that isn't true?  Does your skin crawl a little about deflecting fans this way?  Admit it… doesn't it feel a little weird and wrong, deep down inside?
Why ignore your conscience?
(EDIT: we're told that previous crisis manager Reece Mack has stepped down. If that's even true.  Reece: get distance from this, and best luck.)
Fans should expect much more of the smoke and mirrors to delay justice.  But the overwhelming evidence shows that Cochran is guilty of cheating many people besides Peter Beagle.  That's why Peter will win.  Please help him, and share the story using these hashtags. #TakeBackTheUnicorn – #LastUnicorn