Peter Beagle supports the mission to expose and fix bad business practices by Connor Cochran. Connor is facing litigation in relation to this site – never trust info about it sourced from him.
Connor Cochran has now been dropped by attorneys 5 times in his current active litigation alone.  In August 2018, he is Pro Se (self represented) in lawsuits and bankruptcy proceedings against him by Peter Beagle, The Last Unicorn Tour investors, and Patrick Lake, among countless people with grievances caused by his deceptive business practices.
Connor's fifth attorney, John Carmichael, was preceded by Rob Liskey, Richard Mooney, Robert Kane, and the firm Broderick and Saleen (the first to drop him in 2015.) Some wanted to drop Connor after mere weeks. Apart from real lawyers, much work behind the scenes comes from Connor's long-time partner in deceptive business, disbarred lawyer Charles Petit. Attorney James R. Thompson also appears on the list of outstanding creditors in his bankruptcy.
Peter Beagle's lawyer is also owed nearly $25,000 awarded against Connor for his failed attempt to sue her for simply representing Peter; and Patrick Lake received thousands in sanctions awarded against Connor (with payment delivered by his 4th attorney), an unusually significant judgement during a case. Connor has not been honest in court, with judges calling his claims "frivolous".
For current news about Peter, here is the brief for his upcoming trial.
These lawsuit filings are available to anyone who wants to go to the court's website and read them.  Search case RG15794528. A July 2nd filing appends this piechart: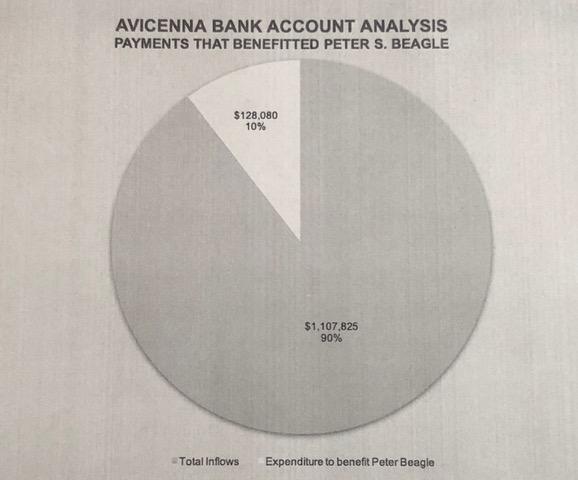 Filings for Peter make a case that Avicenna is a sham corporation. It was formed in 2008, and Connor used it to convince Peter to sign over his rights, and take income on Peter's behalf but under Connor's control.  Ostensibly it would have 50% value derived from Connor and 50% from Peter, with benefits shared equally. But Peter's case indicates he provided all or nearly all of the value, and received very little.
While the chart doesn't detail payments, the lawsuit has unearthed many hints about Peter being kept on a tight leash in a rented apartment, and over $40,000 of spending on him covering a dental procedure alone – so how much was he even free to spend over the years?
And, on the shady side, it could take a forensic accountant to trace the extent of Connor commingling funds with other business owned by him alone, and running personal expenses through corporate accounts to falsely hide his income, letting him dodge debts of $80,000 or more owed to others since 1999.
You can find further info and legal filings in previous updates on this site. This is the background for how Peter Beagle came to demand his rightful accounting as a partner in Avicenna, and how he was blocked from getting it by Connor, despite Connor's fiduciary duty to provide it. This caused Peter's lawsuit.
In other issues: via Peter's support team, we're informed that a Tumblr account in Peter's name at http://peterbeagle.tumblr.com was terminated improperly, and this is being investigated as a likely bad faith action by Connor or on his behalf.
Keep watching here for updates to help fans learn what won't come out elsewhere.
Recent comments received: