Peter Beagle supports the mission to expose and fix bad business practices by Connor Cochran. Connor is facing litigation in relation to this site – never trust info about it sourced from him.
Fans have been requesting updates since we posted in January 2018. Neil Gaiman shared our page as a source for the story; the official Peter Beagle page reshared that, and comic creator Colleen Doran supported Peter too. The whole story takes a lot of reading, but Peter has been suing his ex manager Connor Cochran, who's on a losing streak in court. Cochran tried to game the system by claiming Peter was alcoholic and mentally unfit, conspiring with Peters kids to put him in conservatorship, suing Peter's lawyer, and countersuing Peter. It all failed in court, getting harsh criticism from the judge. On the day before trial, Connor filed for bankruptcy and fled for cover under an automatic stay of proceedings.
PETER'S FIGHT FOR HIS RIGHTS IS BACK ON!

Thanks to Peter's dedicated legal team, the stay is lifted. And he isn't the only creditor coming after Cochran in court… Here's the legal doc. Please keep in mind what Peter's Facebook page posted:
Bankruptcy law advice does not come cheap – I ask that if you can, help support Peter by donating to his legal fund at supportpeterbeagle.com. Any amount is gratefully appreciated.
News about what else Peter is doing:
ALWAYS CHECK if a Peter/Last Unicorn product is legit! 
ONLY trust info from SupportPeterBeagle.com, his official Facebook or Twitter. Other sources are under Connor's control – including Conlan Press, the disputed Avicenna Development Corp, The Last Unicorn movie page on Facebook, and other pages with Peter's name on them. Avoid them (and do not buy Peter Beagle ebooks on Amazon – they pay Conlan Press!)
For authorized products, Tachyon is Peter's current paying publisher for recently published books. Geekify has Last Unicorn scarfs, pins, and a tarot deck. The Real Peter Beagle Facebook helps fans make sure goods from Geekify are legit:
Q: "I thought Connor sill had all the rights and royalties for TLU? does any money from these go to Peter?"
A: "Royalties from the Kickstarter were sent to Peter alongside an extra personal donation from Geekify themselves. Peter approved the Kickstarter personally."

From the Kickstarter campaign page:
"There's been a lot of contention from fans and owners alike about the past and future of The Last Unicorn. Licensing and rights ownership are sometimes a murky thing, and creators don't always get the credit they are due. While our licensing agreement is with ITV (the rights holder for merchandise based on the movie) and is unaffiliated with Avicenna Development Corporation and independent of the recent legal contention, Peter has created something timeless for all of us, and we want to go above and beyond to show our appreciation. To that end, to honor the author and creator we all love, we are voluntarily allocating a percentage of all of the proceeds directly for Peter's benefit, independently of our licensing agreement."
Here's a comment about The Last Unicorn RPG that was announced and protested. Be cautious of disputed deals made before or during Peter's lawsuit: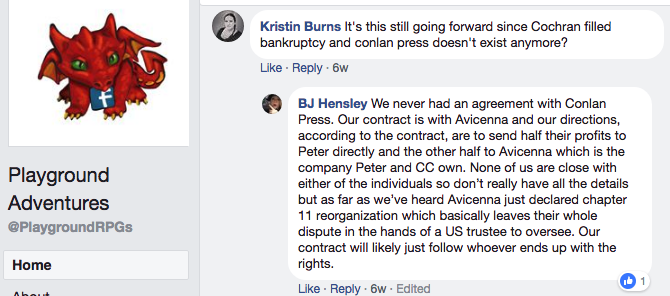 Sadly, customers have little hope to get their due without taking action.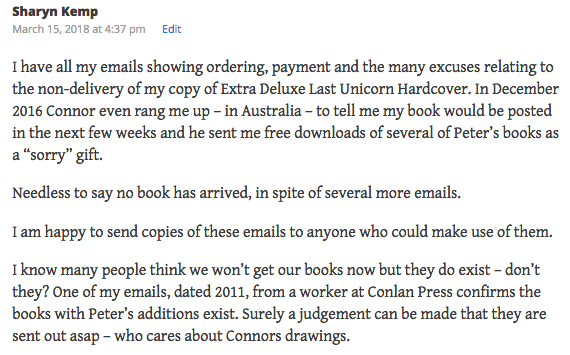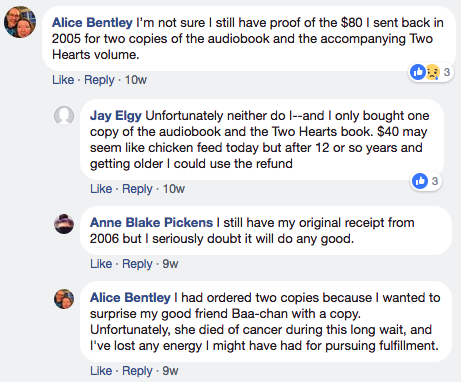 Undelivered sales made in 2005 are getting active complaints in 2018. While Connor has done this to everyone, and nobody knew how bad it would get at the time, it's clear who deserves support now.  The fight for Peter's rights is a positive step for an active, working creator.