The downward spiral continues for Connor Cochran, abusive ex manager of Peter Beagle. His fraud is bringing strong public scrutiny. His lawyer just dumped him. Now he faces an injunction to prevent him from exploiting Peter's name and works to enrich himself.
Cochran is abusing Peter's name as a false front on social media and in business, and continuing to make money from his works without paying him.  Cochran has been "selling as much as he can… to raise money for one purpose only: so that he can use it to sue Peter with."  (See here at bottom.)
In September 2015, Peter hired a professional fiduciary to handle all of his finances. Cochran was informed of duty to pay money owed to Peter and "frequently indicated an understanding" about it months before Peter was forced to sue.  This exhibit from a court document shows why a lawsuit was strongly provoked.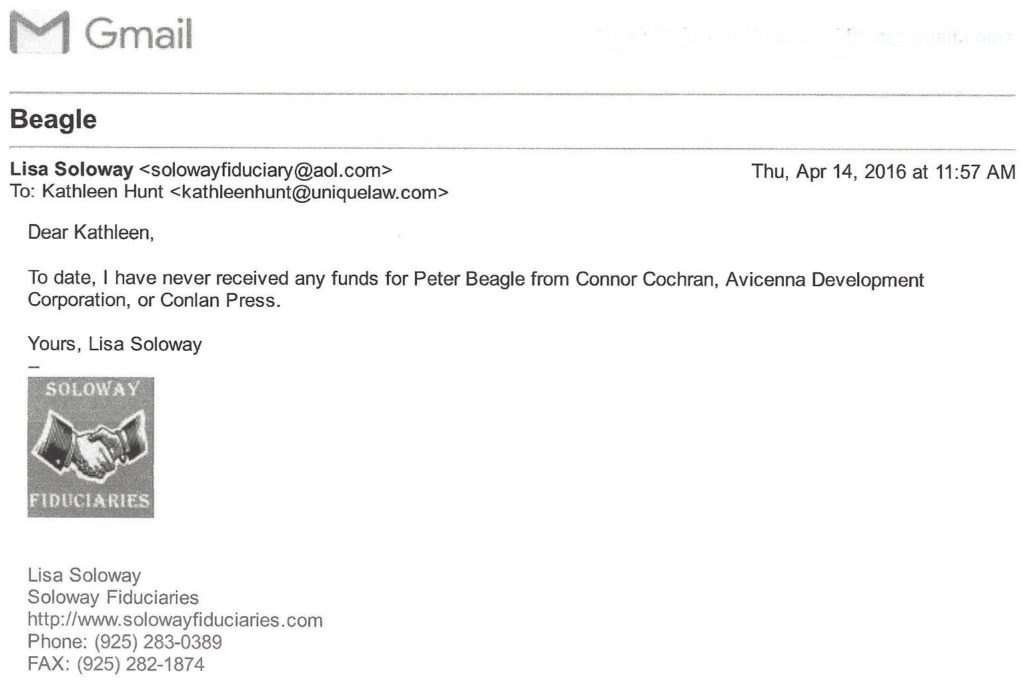 Funny that in September 2015, before there was any lawsuit, Cochran got a crisis manager when Peter hired a fiduciary. Guilty much?
An injunction will reduce egregious money grabbing for Cochran's scam operation, like the Last Unicorn movie screening on 3/27/16.  Fans were misled to ask if Peter would appear, without knowing about his lawsuit against the people running the show. (A comment we linked here was deleted – they forgot this one.)

Besides ripping off and gaslighting Peter, and dealing with the strongly provoked lawsuit, Cochran is also countersuing Peter's girlfriend. It's a strategic smokescreen and punishment to emotionally defeat Peter, cut him off from support, and keep him under Cochran's thumb. All of his heinous wrongdoing makes a lot of legal bills.
Cochran's abuse is funded by exploiting you, the fans of Peter, to keep buying from Conlan Press, ebooks on Amazon, and more. And he desperately wants to stop you from knowing. Don't let him. Please share with hashtags #LastUnicorn and #TakeBackTheUnicorn.
Coincidentally, Cochran's Last Unicorn page on Facebook suddenly "forgot" who owns it, when repeatedly asked by fans.  His crisis manager began deleting their comments and posts wholesale. It's a transparent ploy to dodge accountability.
And on 4/5/16, Cochran's lawyer dumped him for abusing court process. His substitute is Richard Mooney, who previously served Cochran to take over the Last Unicorn Movie rights. His remaining support comes from closely tied cronies. If you see them spread denial, speak up with questions that destroy it.
The injunction seeks necessary relief from the corruption.  It puts force behind public awareness.  Here's the full text.